Photograph Index for Book "Antarctica's First Lady"
MEMOIRS OF THE FIRST AMERICAN WOMAN TO SET FOOT ON THE ANTARCTIC CONTINENT AND WINTER-OVER
(NOTE NEW SUBTITLE TO BOOK, above)
by
Edith M. "Jackie" Ronne
NEW (Author Photo for Back Cover or inside dust jacket.)
- In very front of book or on inside cover.
Frontispiece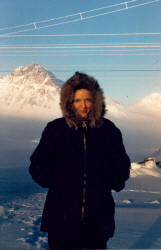 Photograph of Jackie taken at the Base in Antarctica
Map of Antarctica with main international bases.
Chapter 1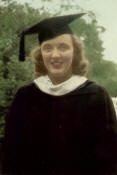 Photograph of Jackie taken in cap and gown for college graduation
Finn had been a member of the Second Expedition of Admiral Richard Byrd in 1933-35, as well as the American Antarctic Service Expedition 1939-41, prior to meeting Jackie.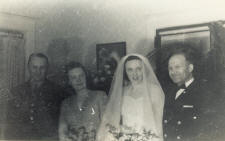 Jackie and Finn at their wedding in Chevy Chase, Maryland on March 18, 1944. Fellow Antarctic explorer Carl Eklund was best man and Bettie Earle, who introduced them, was maid of honor.
The newly-weds begin making plans for the expedition in their small Washington, D.C. apartment
Chapter 2
83 Loading Norseman aboard ship at Beaumont, Texas shipyard; it crashed on the deck and was replaced in Panama.
Loading ship at shipyard in Beaumont, Texas
74Finn loading the dogs on the ship in Beaumont
70The citizens of Beaumont gave the expedition a grand farewell celebration, complete with live radio broadcast.
Port of Beaumont sails from Beaumont, Texas, down the Neches River (NEW PHOTO; use in exhibit and Boy Scout Site)
625758 The Port of Beaumont heads out to sea.
61 some of the crew watches as the ship sails.
Chapter 3
Group onboard Port of Beaumont near Panama ( l to r: Sig Gutenko, Larry Fiske, Finn Ronne, Chuck Adams, Jackie Ronne, Chuck Hassage, and Andy ThompsonA
Jennie Darlington and Jackie Ronne aboard ship on way south
Jennie and Harry Darlington NEW
25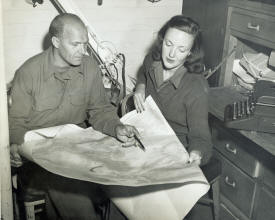 Finn and Jackie working in their stateroom aboard ship, Port of Beaumont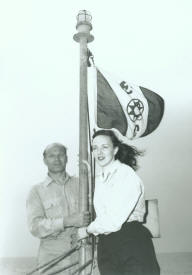 or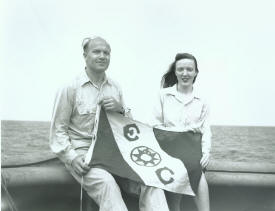 Finn and Jackie on the fantail of the Port of Beaumont, with the Explorer's Club flag.
Chapter 4
Aerial view of Stonington Island showing Base and ship anchored in Back Bay cove NEW
54 The Expedition's Base including the machine shop, the main bunkhouse, and our hut.
Vandalism found at Base upon arrival NEW
51 Ship anchored in Back Bay Cove with glacier and mountains in background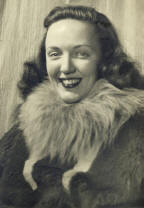 Jackie posed for a formal portrait, as did every expedition member.
Chapter 5
Adelie penguins near base. NEW
Chapter 6
Unloading with visiting British ships Fitzroy and Trespassy in background
Chapter 7
Meteologist Harcly Peterson releasing a balloon from the meteorological tower NEW
353637 First secret U.S. Post Office set up in Antarctica. Finn poses for secret photo taken by Jackie, to establish existence of post office, for potential future land claims..
4748A cover showing the "Oleona Base" cache. March 12, 1947, was the opening date of the post office and Finn's Postmaster Certificate.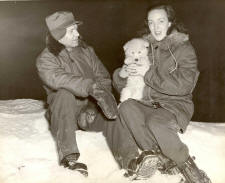 Finn and Jackie with white huskie puppy, Kasco NEW
Chapter 8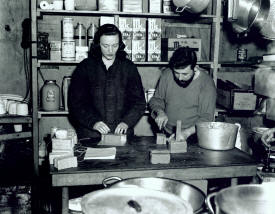 Sig Gutenko and Jackie in galley wrapping pemmican that he made for trail parties.
Bob Nichols, Finn and Captain Ike Schlossback planning a field party to King George VI Sound NEW
10 Jackie working on articles about the expedition for the North American Newspaper Alliance while Finn plots aerial flights into the unknown.
Chapter 9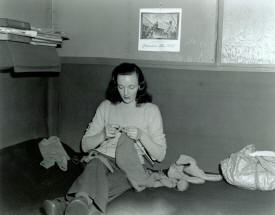 Jackie passed her free hours knitting with supplies she picked up in Chile.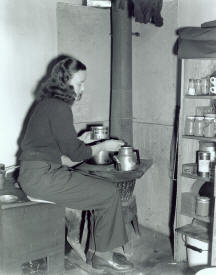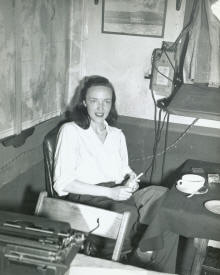 17Jackie tended to normal activities, like making coffee on the primus stove and relaxing with a cigarette in her hut.
McClary and Art Owen relaxing in the bunkhouse. NEW
Peterson and Fiske under plastic dome taking the wind velocity NEW
Finn, Nelson McClary and Woodie lashing sleds in the Machine Shop NEW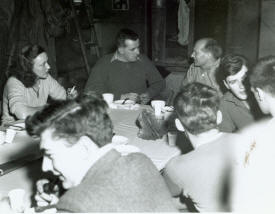 British Leader K.S. Pierce-Butler having dinner with us.
Chapter 10
Discussing trail and flight plans in our hut – top row: Fiske, Finn, Peterson; front row: Latady, McLean, Ike, Thompson, Nichols and Dodson NEW
Finn discussing flight plans with Ken Butler, leader of nearby British "E" base, posing by Beechcraft plane "Ed Sweeney." NEW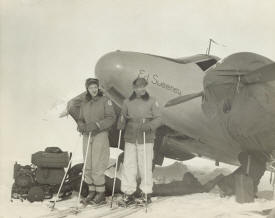 Jackie and Finn posed in front of Beechcraft while out skiing.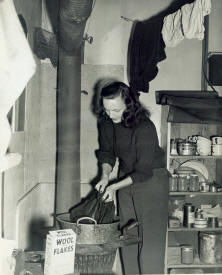 Jackie washing clothes on stove with underwear drying on line above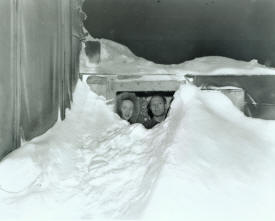 Jackie and Finn peer out of the window in the passageway between their hut and the main bunkhouse.
Peterson recovering from his near fatal fall down a crevasse. NEW
Chapter 11
Harry Darlington NEW
Finn saying goodbye and good luck to Bob Nichols at the start of his sledge trip down the coast. NEW
Our little "Necessary House" on the hill with Science Building on right. NEW
Chapter 12
Our two Air Force Pilots, Lassiter and Adams in front of Norseman plane. NEW
The three British airmen rescued after their plane crash stand between Finn and Ken Butler – Reg Freeman, Navigator; Bernard Stonehouse, Co-pilot; and W.H. Thomson, Pilot NEW
Chapter 13
Radio Operator, Lawrence Kelsey in our radio shack. NEW
Chapter 14
Weasel (with Beaumont sign) takes gasoline drums to planes for fueling. NEW
The Norseman and the Beechcraft planes land at field camp. NEW
Bill Latady operating the trimetrogon cameras in flight in Beechcraft. NEW
66676869The expedition discovered hundreds of square miles of previously unseen and uncharted territory. Here are sample of photos taken from the trimetrogon cameras: mountains, glaciers, open water leads and ice fields.
Andy Thompson analyzing seismograph sheet for possible earthquakes. NEW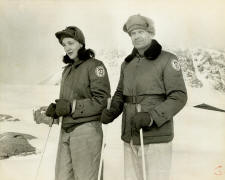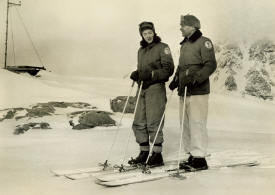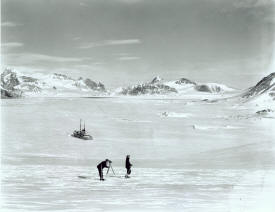 Finn and Jackie skiing around the base and on the glacier.
Adelie penguin rookery NEW
Overview of base with planes. NEW
Chapter 15
Geologists Bob Dodson and Bob Nichols study rocks in the field NEW
Huskies NEW
71 Smitty (second from right) and Art Owen (right) at their farthest south on the Ronne / Weddell Coast.
19Finn's birthday party in the Ronne's hut.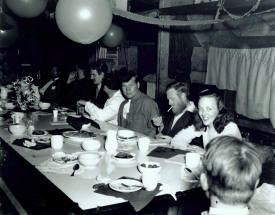 Christmas Dinner. The Ronnes invited the Britishers to join the celebration.
Dodson and Nichols return from their 3-month geological trip. NEW
Chapter 16
Our cook, Sig Gutenko, serves up fresh pies NEW
Chuck Adams, Jimmy Robertson and Chuck Hassage celebrate New Year's Eve. NEW
Loading planes onto ship for return journey. NEW
Chapter 17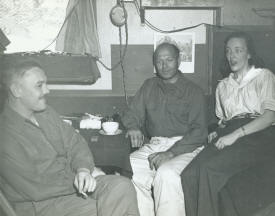 Cdr. Gerald Ketchus USN Commander of Task Force #39 consisting of the Navy Icebreakers Burton Island and Edisto visit the Ronnes.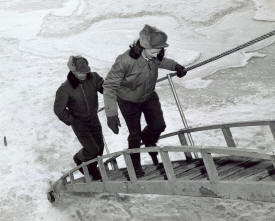 Jackie and Finn going aboard the Burton Island Icebreaker for dinner.
Port of Beaumont arrives in New York NEW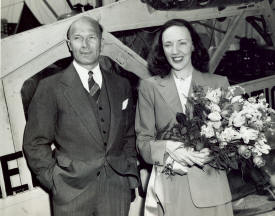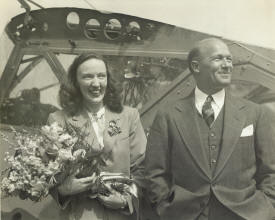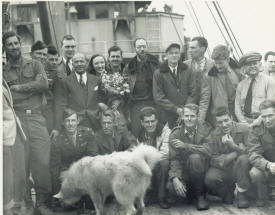 The Ronne expedition's arrival in New York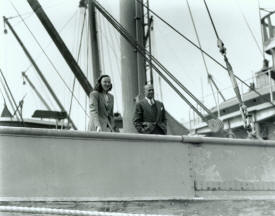 Greeting well-wishers on arrival in New York
The NY boy scouts well home fellow boy scouter Art Own, center. NEW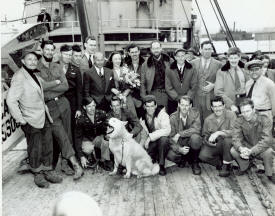 Delete this photo from BSA website and use this new one:
The entire expedition group, minus the Darlingtons and Jorge DiGeorgio, pose on the deck of the ship upon return to New York. Standing: Ike Schlossback, Dr. Don McLean, Capt. James Lassiter, Chuck Hassage, Larry Fiske, Commander Finn Ronne, Jackie Ronne, Ernest "Woodie" Wood, Bill Latady, Jimmy Robertson, Bob Nichols, Harcly "Pete" Peterson, Sig Gutenko. Kneeling: Chuck Adams, Bob Dodson, Walter "Smitty" Smith, Nelson "Mac" McClary, Art Owen, and Andy Thompson. NEW
Chapter 18
Jackie and Finn's first lecture trip was to Norway, Finn's native country. NEW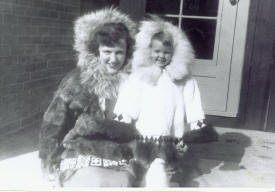 Daughter Karen was born in 1951.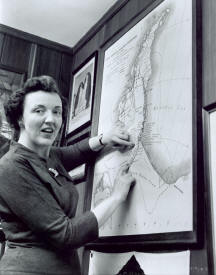 Jackie points to map where Finn named newly discovered land "Edith Ronne Land", later named "Ronne Ice Shelf," after her.
Jackie and Finn toured around the US and Europe, lecturing about their experiences.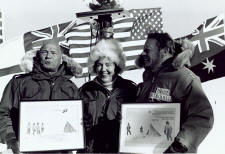 Finn and Jackie at South Pole in December 1971 with Commanding Officer Admiral Leo McCuddin.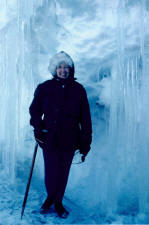 Jackie in an ice cave in 1971.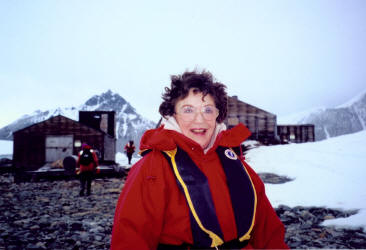 Jackie returned to Stonington Island Base in 1995. USE THIS SOMEWHERE. COVER?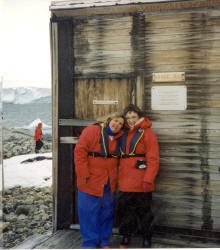 Jackie shows daughter Karen around the base. Here, they pose in front of the Ronne Hut. NEW
Jackie lectured on board tourist cruises to the Antarctic.
Photos not used:
12345678910111213141516171819202122232425262728293031323334353637 38 339404142434445464748495051525354555657585960616263646566676869707172737475767778798081828384
<![if !vml]>

<![endif]>
<![if !vml]>

<![endif]>